à bloc / LA : Rides and Events.
Coffee / Cycling / Community is our mantra, we actively encourage our amazing community to come together to ride, educate and inspire each other.

Our goal is to be Los Angeles' preeminent start, end, and even mid ride pop-in spot for local group rides, and a must visit destination for globe trotting cycling enthusiasts.

If you are interested starting, finishing or just dropping into à bloc mid-ride, send us an email and we'll put your ride up on our board.
Please note: Our weekly ride schedules can change; we usually post the upcoming ride info the day of the ride, so please check our Instagram Stories for updates. Follow à bloc LA Instagram here. 
++++++++++++++++++++++++++++++++++++++++++++++++++++++
LET'S GO À BLOC! COME JOIN IN THE FUN ON OUR STRAVA CLUB 
WEEKLY RIDES: DM @abloc.la for more info.
Sunday: Coffee Shop Ride
Coffee from 7am. Roll out @ 8.15am.
Medium paced ride exploring, and spreading the love around the coffee shops and local climbs of Los Angeles with à bloc.
DM @abloc.la for more info

----------
Monday:  Monday Shop Ride
The mountains are beautiful! Let's Go!
Chill climbs and sweet roads around L.A.
~25-35 miles, 2-3hrs.

Coffee 7.30am - Roll 8am
DM @abloc.la for more info
------------
Monday Eve: MTB x PIZZA RIDE: (On Hiatus)
Start the week right with Dirt, Laughs and Pizza w/ @_iamkjeld
Gather @ Windsor Car Park (East Side of JPL) 
Roll out @ 6.15pm. 50-90mins of MTB fun... followed by PIZZA!
Brown Mtn > El Prieto Trail > Pizza (at Pizza of Venice - Altadena)
DM @abloc.la for more info
---------- 
Tuesday: REST DAY.
Floating ride schedule, please check here or our instagram stories for weekly info update.
DM @abloc.la for more info
----------
Wednesday: Hump Day Roll.
Win hump-day with an early chill recovery ride.
~25-35 miles, 2-3hrs.

Coffee: 7.15am - Ride 7.30am
DM @abloc.la for more info
----------
Wednesday Eve: WOMEN LED RIDE:
The HBC Wednesday Chill Ride w/ @aliriding
Gather @ The south side of LOT K (Pasadena Rose Bowl Parking)
Meet 6pm Roll 6.15pm
*All skill levels welcome, starting locations/times subject to change.
Check @aliriding instagram feed for further details.
----------
Thursday:
L.34 Group - 'Titans of Industry Ride.'
Road bikes on local LA routes. Come out and be a titan!
Coffee: 7.15am - Ride 7.30am 
DM @little_red_riding_hood for more info.
 ----------
Groàdie Squad: Guest Ride Leader TBA: (COMING SOON)
Explore great local gravel routes w/ à bloc
DM @abloc.la for more info
 ----------
Friday: Breakfast Scramble w/ @p3t3r21.
Whet your cycling appetite for the weekend.
Coffee: 7.15am - Ride 7.30am 
Check for this week's ride info below on on our insta-stories.
~2-3hrs. Group dictates pace.
DM  @abloc.la for more info. 

 ----------
Special Event Rides: This Month: 
 ----------
@abloc.la x @catellacycling Spaces Ride VII: date TBA
 ----------
Community Events and Trail Work: 
Next Trail Work: TBD
Usually on a Sunday, volunteers spend the morning correcting drainage, rock armoring switchbacks, patching ruts, moving land slides, and fixing trail surfaces. MWBA focuses on keeping our trails "sustainable" and safe for all user groups, not just mountain bikers.  We also take the opportunity to speak with riders we see on the trail about bike bells, trail courtesy, and volunteer work.
MWBA volunteers work regularly on Sunset Ridge Trail, Sam Merrill, and El Prieto.  We have also done trail work on Strawberry Peak, Rattlesnake, and other spots.
After about 3-4 hours of good work, we wrap it up and enjoy lunch together.  Trail work is a great way to give back to your favorite trail and to meet other trail users.  It is perfect way to experience trails from a different perspective.  A trail work day is always rewarding time and its great fun to ride a trail that you have helped maintain.
MWBA also has a team of USFS trained & certified Chainsaw Sawyers.  The Station Fire burned a massive amount of our forest and every time the wind picks up another tree falls.  The Sawyer team is "on call" for fallen tree clearing duties and commonly works on weekdays when trail traffic is lower.  MWBA is very grateful to our local Little Tujunga Hot Shots crew who trained our sawyers and continue to offer valuable advice and support.
Come out and join us on a weekend trail work day!  No trail work experience is necessary.  All you need is yourself, a long sleeved shirt, pants, sturdy boots, and a great attitude.  We guarantee you will have a fun day working alongside other mountain bikers!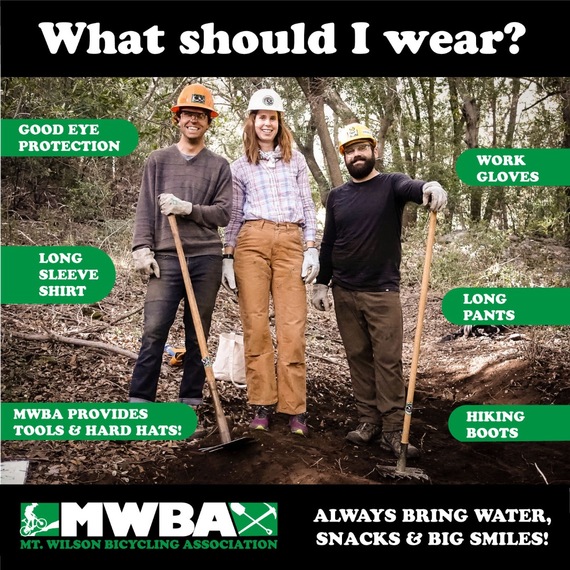 Famous Group Rides of L.A:
Saturday: (All Year Round)
The Montrose Ride:
The Montrose Ride starts at Descanso Gardens in La Canada (about 3 miles northwest of the Rose Bowl in Pasadena), covers about 45 miles on it's way to the official "end" of the ride in Sierra Madre.   Watch out for cyclists joining the pack along the way as they often surprise riders who are flying along at speeds of up to 40mph, particularly along Huntington Drive in San Marino.
This is definitely a ride for more advanced cyclist, it is fast paced and demands a knowledge of large group ride / race etiquette.
Start Times
8:00am
Main Start
Descanso Gardens in La Canada, CA  (1/2 mile south of Verdugo on Desconso)
Start # 2
8:20 at Trader Joe's Market in S. Pasadena (corner of Mission and Grand)
Start # 3
9:15 at Arrow Hwy and Cerritos in Azusa (the "long" ride splits off here)
~ 45-50 miles, 2 1/2 - 3hrs
Sunday: (All Year Round)
Nichols Canyon 
Fast training ride taking in a famous local climb, rollers, and killer views; not that you'll have time to take them in, the pace is fast, fast, fast.
Departs 8:00AM from Raymond Fouquet Square @ the corner of Westwood Blvd & La Grange Ave in Westwood.
*THE WAIVER
*Disclaimer: Bicycle riding can be dangerous and there are inherent risks involved. All cyclists are responsible for his/her/their own actions; this is notice that à bloc / LA cannot be held responsible for any injuries or accidents that occur while riding your bicycle. Please obey all traffic laws. Thank you.